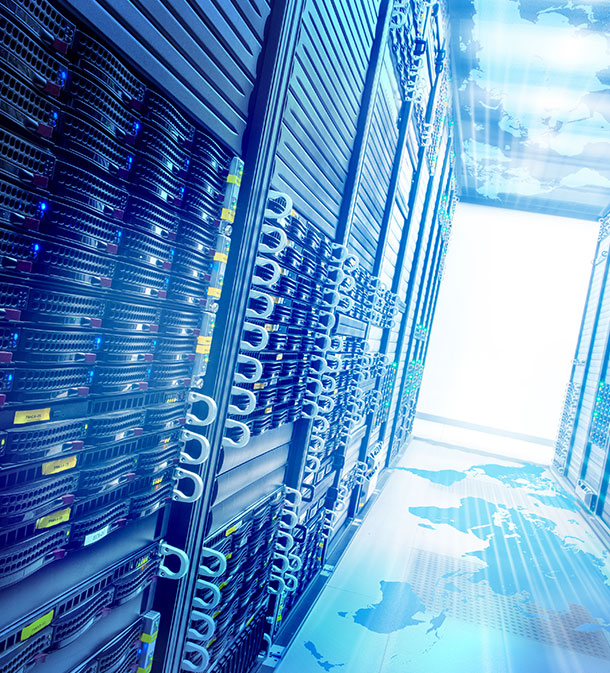 Providing a well-structured, secure, reliable and clean solution to any network, regardless of its size, is essential to any business.
That is why our Consultants and Network Team devote a great deal of time providing efficient networking services to our clients.
We cover everything from small peer-to-peer networks to large corporate infrastructures by evaluating a client's environment, making an assessment of actual needs and designing and implementing a best-fit solution.
Office Networking & Wiring
Whether you are moving to a new location, expanding, or down-sizing, a need will exist for office wiring of phone, data, camera, and peripheral componentry.
Let's face it, moving to a new location can be stressful enough, without even considering all of the technology requirements that will be necessary.
Our clients hire IRAQI-Cloud Solutions to alleviate this headache. We have wired hundreds of offices and even moved the same clients over the years to each of their new locations.
We manage the project, work with your landlord or project manager through the entire process, from start to finish.
Let us we focus on the technology so you can focus on your business. We are very knowledgeable, insured, and experienced in this type of work.
Anyone can throw cables across a ceiling, but when you start dealing with passing inspections, having everything work on the day of move in, and having all the wiring clean, secured, and approved, you cannot afford to have an amateur perform this work.
Example Services:
Setup and wire network/phone closet
Tone and trace existing wiring
Wire and install phone systems
Disconnect, transfer, and move existing equipment
Coordination of Vendors (phone, internet, copier, etc.)
Network Setup (cable runs, network drops, server room, etc.)
Wire and install security cameras
Mount and install flat-panel televisions
​
Network Maintenance Agreements
Our support agreements are for those clients that would like to have their networks and systems monitored on a preventative and pro-active basis.
Of course, the common saying is "If it's not broke, don't fix it..." Well, we can help make sure that it does not break, so you don't have to fix it. If something occurs and it does break, you want us to be aware of it and be on top of it, before your entire firm is down and out.
Some examples of what we can provide:
Routine network and systems monitoring
Routine checks on servers
Routine checks on backups
Routine checks on virus protections
Setting secure remote access
Monitoring systems in the event of failure
Routine monitoring of system logs
Routine hardware and system integrity checks
Dispatched technicians for hardware failures
Internal Support Staff
In addition to our regular support agreements, we also provide many clients with full or part-time support staff within their organization.
Rather than going through the process of interviewing, hiring, and building an internal technology department, we provide our clients with contracted support staff to aid in any technology issue that may arise.
Common Solutions
Although we can provide a vast array of solutions to our clients, this is a small list of the most commonly requested services.
Multi-Location managed network and IT support
Security Policies and Procedures
Firewalls, Intrusion Protection, Security Appliances, VPN
Protection solutions for virus, spyware, spam, malware, etc.
Web content filtering and monitoring
Break-fix and maintenance for network infrastructure
Server installation, setup, and configuration
Network support services