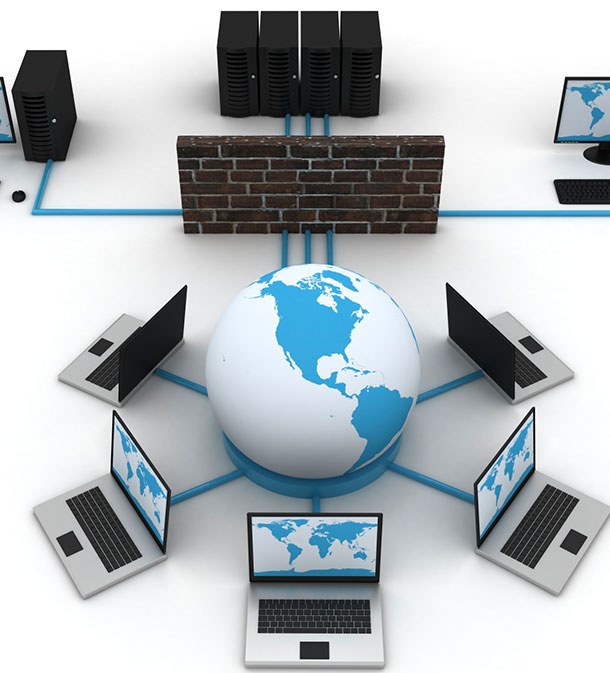 More and more companies are transitioning their networks from copper to fiber optic cable for 100GB speeds, increased data storage capacity and improved density. To assist with network design, some of the biggest names choose AFL as an experienced, knowledgeable partner for service, support and training.
With a thorough understanding of all network types—wired, wireless and cloud computing—
IRAQI-Cloud
has extensive experience with LAN, storage/server room, data center and MDU applications. With an unprecedented reputation for excellence in the industry,
IRAQI-Cloud
has the depth of resources necessary to provide the engineering services to design, furnish and install the products, components and accessories for a network custom-designed to meet your specific needs.
IRAQI-Cloud
provides end-to-end network design solutions including:
IRAQI-Cloud efficiently integrates solutions for your business

:
IRAQI-Cloud
understands that it is not only important which products you select but also how you will integrate those products efficiently and effectively. We develop solutions for your business, and can build it from the ground up, add to your existing network, upgrade and replace outdated networks and install or repair service delivery channels for subscribers.
IRAQI-Cloud
has brought expertise to large and small businesses,
financial institutions
, government installations,
healthcare,
education
and residential consumer markets. Specific services provided include:
Implementation and Staging
LAN/WAN installation for internet and Intranet connectivity
Remote access
Network management
Workstation and server rollouts and migration
Network Consulting
LAN/WAN design
Voice and data integration design
Workstation rollout planning
Security evaluations
Corporate internet access planning
Premise Services
Residential and business voice, DSL and IPTV
Wiring
Business CPE
Data/WAN/LAN
Enhanced Data/fiber
Point of sale networks
Private networks
Modem/router migrations
GPON conversations/connections
Structured cabling
Fiber splicing
Wi-Fi
Product Sales
Router, hubs and switches
Desktop hardware, peripheral hardware and NIC cards
IP and voice equipment
Wireless network equipment
Staff Augmentation
Contract technicians and engineers for PC, network and helpdesk assistance
Structured cabling
provides the critical backbone of a communication system.
IRAQI-Cloud
understands the complex issues involved in planning, installing and maintaining network communication systems. With our expertise and experience,
IRAQI-Cloud
provides our customers with the commitment that their telecommunications infrastructure, no matter how complex, will be designed, constructed and installed to meet current and future requirements.